Van Ramsey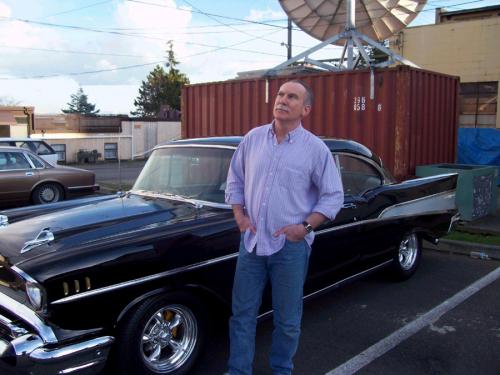 Bio??? OK, since you asked...
I was born in Miami in 1957. The first artist I remember singing along with a lot was Ricky Nelson, and I think we had a 45 of Elvis's Teddy Bear...
In 7th grade, around 1970, I took up the trumpet in the school band, and quit listening to crappy pop commercial radio. There was a great station in Miami, WBUS, "The Magic Bus." Listening to them was a real EXPERIENCE, but after a few years they were sold, their freewheeling, pot-influenced, creative, rock-based format was out the window, and I discovered PUBLIC RADIO!!! Commercial-free bluegrass, folk, jazz, country, celtic, and NPR. Amazing!
In high school I became a dedicated student of jazz and a total music snob, so I don't know jack about 1970s rock, but I can sing a bunch of Lee Morgan and Clifford Brown solos note-for-note. Could even play them back in the day...got a jazz degree from the University of Miami (calm down, it's not THAT funny!), spent a few years trying to have a music career; worked mostly on cruise ships and with Cuban, Colombian, and Haitien bands in Miami, then moved to Brooklyn, played my share of weddings and bar-mitzvahs, got a day job in Manhattan, gave up the trumpet, and continued to listen to public radio and the variety of music to which it exposed me.
In the mid-1980s, Marc Koch, a co-worker who shared my love of American sub-culture, e.g., Ed Wood, Bettie Page, Tura Satana, Russ Meyer, Tubby Boots, et.al., introduced me to The Cramps, The Reverend Horton Heat, Charlie Feathers, and the Norton Records catalog, from which I ordered my first Link Wray records. My wall of musical snobbery began to crumble away. I followed the musical thread from contemporary psychobillys back to early rockabilly. Back to Elvis and Ricky Nelson!
I'll be dipped.
I moved to Everett in 1994 because I like it here, and I was done with Brooklyn. In 2003, I took a broadcasting course at KBCS and began to zero in on the basic concept for Pull The String, submitted my demo CD to KSER, went on the air the first week of October of that year, and YOU started tuning in! Musically, I was all over the place the first couple of years, then gradually settled down to a manageable number of musical styles, but always with a fondness for the under-recorded, unknown, never-made-it artists who turn up in what I like to think of as "America's Lost Jukebox."
I've managed to sneak back into music, too. I'm now a hack organist/singer/songwriter. Look for The Wild Snohomians at a bar near you soon!
So who do you think will play me in the movie version...??
Van Ramsey's Audio Files


Van Ramsey's Blog Posts

Subscribe to this blog